Marketing Education
DECA is a co-curricular component of marketing education that provides a program of student activities related to marketing and marketing education. Membership in DECA is open to all students who are enrolled in a state approved career and technical marketing education program. DECA provides opportunities for students to develop skills in the areas of career and technical understanding, leadership, civic consciousness, and social awareness.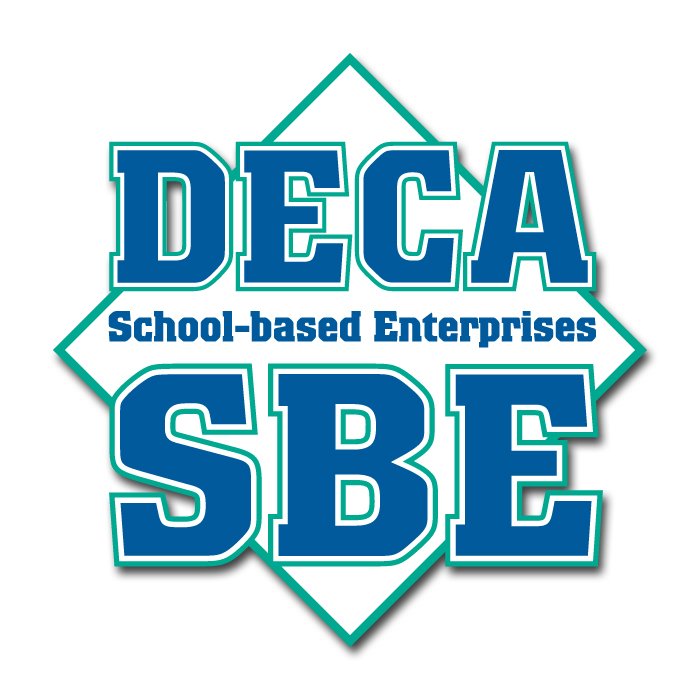 SBEs provide realistic and practical learning experiences that reinforce classroom instruction. SBEs can sell to consumers through a permanent location, a mobile kiosk or through Internet marketing. Products may include spirit wear, food and beverage items, school supplies, signs and banners and more, while other SBEs provide services such as creative design, advertising sales and more.
School-based enterprises are effective educational tools in helping to prepare students for the transition from school to work or college. For many students, they provide the first work experience; for others, they provide an opportunity to build management, supervision and leadership skills. While some in the education community have only recently discovered the value of school-based enterprises, educators and DECA advisors have used them as a powerful teaching tool for more than four decades.
The DECA Brand
Our brand captures the essence of our organization and communicates it to all of our key audiences. With a 60 year history, DECA has an illustrious past that has touched the lives of more than ten million students, educators, school administrators and business professionals. Their strong connection with our organization has resonated into a brand that people identify as a remarkable experience in the preparation of emerging leaders and entrepreneurs.
All dynamic organizations and corporations periodically examine their message statements to refresh, clarify and strengthen their brand. DECA embarked on a two year process that involved researching the use of message statements in modern communication strategies; conducting focus group sessions with DECA's Board of Directors, State/Provincial Advisors and Students members and our business partners; and sampling opinions of education policy makers and the general public.
The result is a contemporary and enhanced brand with updated message statements that collectively define our organization while retaining our historic connections and name recognition. DECA's key messages are communicated through our guiding principles, which are connected to our updated logo. The first set describes our signature methodology and connects to the outer points showcasing the polished leaders DECA prepares.
The synergy of a cohesive message shared among all members in our organization allows us to more effectively propel DECA's mission statement, guiding principles, attributes, values and brand essence. Our unified brand will result in improved recognition, convey or unique elements, develop allegiance and increase support for DECA.
We are stronger when we speak s one, so join us in communicating our message.
Edward L. Davis, Ed.D.
Executive Director,
DECA Inc. April, 2010
Descriptor
DECA prepares emerging leaders and entrepreneurs for careers in marketing, finance, hospitality and management in high schools and colleges around the globe.
DECA enhances the co-curricular education of members through a comprehensive learning program that integrates into classroom instruction, apples learning, connects to business and promotes competition.
DECA's activities assist in the development of academically prepared community oriented, professionally responsible, experienced leaders.
DECA Inc. is a 501(c)(3) not-for-profit student organization with more than 200,000 members in all 50 U.S. states, the District of Columbia, Canada, China, Germany, Guam, Hong Kong, Korea, Mexico and Puerto Rico. The United States Congress, The United States Department of Education and state, district and international departments of education authorize DECA's programs.
For more information, visit: http://www.deca.org/
Attributes and Values
COMPETENCE
INNOVATION
INTEGRITY
TEAMWORK
Mission Statement
DECA prepares emerging leaders and entrepreneurs in marketing, finance, hospitality and management.
Guiding Principles
DECA's Comprehensive Learning Program
Integrates into Classroom Instruction – An integral component of classroom instruction, DECA activities provide authentic, experiential learning methods to prepare members for college and careers.
Applies Learning – DECA members put their knowledge into action through rigorous problem-based activities that require creative solutions with practical outcomes.
Connects to Business – Partnering with businesses at the local and broader levels provides DECA members realistic insight into the industry and promotes meaningful, relevant learning.
Promotes Competition – As such in the global economy, a spark of competition drives DECA members to excel and increase their performance.
DECA prepares the next generation to be
Academically Prepared – DECA members are ambitious, high achieving leaders equipped to conquer the challenges of their ambitions.
Community Oriented – Recognizing the benefit of services and responsibility to the community, DECA members continually impact and improve their local and broader communities.
Professionally Responsible – DECA members are poised professionals with integrity and high standards.
Experienced Leaders – DECA members are equipped to effectively influence their peers and provide leadership in a business setting.
Unifying Logo
DECA's logo embraces the organization affinity for the diamond while displaying a bold, modern design.
The four points inside the diamond represent the set of DECA's guiding principles while the four outer points represent the second set of DECA's guiding principles and the polished leaders DECA prepares.
DECA's Logo
The official DECA emblem is a diamond shaped design. To illustrate the evolution of Marketing Education from Distributive Education, a new logo for DECA was unveiled in 2010. The diamond appears to be moving forward. This represents idea that DECA is striving to keep pace as we go into the twenty first century. Each point on the diamond symbolizes a working part of the organization: Vocational Understanding, Civic Consciousness, Social Intelligence and Leadership Development. DECA's strength and achievements are exemplified through the cooperation of the local advisors, school officials, students, parents and business people working together.
Vocational Understanding – Marketing education students develop first-hand knowledge of marketing, merchandising, management and entrepreneurship, and the opportunities available in their chosen career.
Civic Consciousness – Marketing education students learn to recognize their obligations to the community in which they live.
Social Intelligence – DECA members develop poise and social graces, and become aware of the social environment through DECA social event.
Leadership Development – DECA activities are designed to give students the opportunity to be leaders and followers.
The DECA Tagline
"An Association of Marketing Students"
Creed
I believe in the future which I am planning for myself in the field of marketing and management, and in the opportunities which my vocation offers.
I believe in fulfilling the highest measure of service to my vocation, my fellow beings, my country and my God – that by so doing, I will be rewarded with personal satisfaction and material wealth.
I believe in the democratic philosophies of private enterprise and competition, and in the freedoms of this nation – that these philosophies allow for the fullest development of my individual abilities.
I believe that by doing my best to live according to these high principles, I will be of greater service both to myself and to mankind.
Official DECA Colors
The official DECA colors are blue and gold. Blue suggests sincerity and genuineness. It is the color of the heavens above us, and it encourages us to reach ever upward, continually trying to improve ourselves and our services. Gold suggests the crowing success which comes to those who live wise and useful lives. We all seek success, not solely for the wealth it brings.
The purposes of Delaware DECA are:
To unite in a common bond, without regard to race, color, sex, or national origin, fulltime students enrolled in classes in marketing education.
To provide leadership and set an example for the local chapters, while at the same time serving them, with the primary purpose of creating a strong unity among the individual chapters.
To provide recognition and prestige through an association of local chapters.
To provide leadership and service for the individual members of each chapter, in the areas of social intelligence, civic consciousness, vocational understanding, and leadership development, as represented by the four points of the DECA Diamond
To foster a deep respect for the dignity of work, while assisting students in establishing realistic career goals and attaining a purposeful life.
To create enthusiasm for learning, and to use this enthusiasm to promote high standards in quality of work, pride, scholarship, and human relations.
To develop the ability of students to plan together, organize, and carry out worthy activities and projects through the use of the democratic process.
To foster a wholesome understanding of the functions of marketing and management organizations and a recognition of their mutual interdependence.
To develop patriotism through a knowledge of our nations heritage and the practice of democracy.
What are the benefits of DECA?
Enables students to achieve high academic and occupational standards.
Develop meaningful partnerships.
Links school based learning to the real world of work and family.
Motivates youth to become better students and productive citizens.
Provides students an opportunity to excel.
Gain confidence through competition.
Belonging to a positive group.
Goals of DECA
DECA has identified the following major goals for the membership in secondary schools:
To provide an opportunity for demonstration and development of the competencies important to student success in there chosen marketing career.
To inspire and develop leadership, self-confidence and self-acceptance in students.
To support the development of student civic responsibility in our competitive free enterprise system.
To inspire students to assess and improve personal and business communication skills.
To provide an opportunity for students to identify and develop ethical standards in marketing.
To provide a mechanism to involve teachers, administrators, employers, parents, business and community leaders in the Marketing Education experiences of students.