2020-2021 State Executive Officer Committee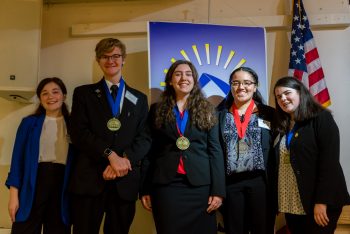 Emily Racz, President (Cape Henlopen High School)
eracz@delawaredeca.org
Talia Liburdi, Vice President of Leadership (Cape Henlopen High School)
tliburdi@delawaredeca.org
Riley Roberts, Vice President of Marketing (Cape Henlopen High School)
rroberts@delawaredeca.org
Dylan Roberts, Vice President of Finance (Cape Henlopen High School)
droberts@delawaredeca.org
Kaela Rothstein, Vice President of Career Development
krothstein@delawaredeca.org
Delaware Department of Education
401 Federal Street
Suite 2
Dover, Delaware 19901
In DECA, we are surrounded by opportunities. Every moment provides us a new chance to break out of our comfort zones, take risks and prove ourselves as emerging leaders and entrepreneurs. Now is your chance to begin shaping your future. Will you let the moment slip by, or will you take action? Ready… Set…
HERE WE GO.
As a new year in DECA begins, it's time to go faster, go bigger and go further than ever before.
Go lead your chapter or association.
Go build your network.
Go serve your community.
Go explore colleges and careers.
Go enhance your skills.
Go compete against the best.
Go reach your potential.
No matter which goals you choose to pursue, DECA provides us with the skills and abilities to go after what we want most.
The moment is here. Get ready to declare, "HERE WE GO!"