State Officer Committee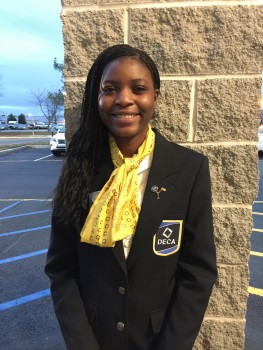 Hello, my name is Veyola Rezkalla and I am serving as your 2016/2017 Delaware DECA State President. I am a senior at Christiana High School, and I have been involved with DECA for 3 years. Apart from DECA, I am involved in the Nation Honor Society serving as the Vice President, FFA, NSHSS, the YWCA, Best Buddies, Student Government, and the girls' Varsity soccer team. What makes DECA unique is that it provides you with skills that can be used in just about every aspect of your life. One thing that I got out of joining DECA was the connections that I was able to make and the people I had the privilege of meeting. Being part of this organization is such an amazing experience and I am truly grateful to be able to take part in it. I hope to see you at our conferences this year, and I look forward to seeing Delaware DECA Rise Up!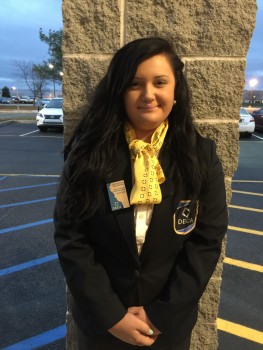 Katarina Milewski is honored to be your 2015-2016 Delaware State Vice President!
Katarina is entering her senior year at Glasgow High School, where she plans on attending the University of Delaware and getting her master's degree in management. Pursuing a master's degree, Katarina wishes to take her passion for leadership and entrepreneurship into a profession as an entrepreneur, striving to become a prominent part of a large world.
Since her sophomore year, Katarina has been a member of DECA and has served as a chapter president for two years following her position as treasurer. Her desire to serve the organization and its illustrious members has never wavered; instead, she continually strives to make the best of her DECA experiences.
Her enthusiasm and devotion travels even beyond DECA. Katarina has been recognized for numerous awards and is actively involved in clubs. As a matter of fact, Katarina has been nominated for the National Business Education Award from the United States Achievement Academy for two years in a row as well as the National Academy of Future Scientists and Technologists Award of Excellence from Buzz Aldrin. Although she is most passionate about DECA, Katarina is a part of AFJROTC, National Honor Society, Business Professionals of America and Students in Action.
Katarina credits a great deal of her success to the lessons she has learned through being a member of DECA. The organization has taught her personal responsibility and determination, and has given her the opportunity to build and showcase her passion for business. She hopes through representing Delaware DECA she inspires young members to step out of their comfort zone and to remember, all your dreams can come true if you gain the courage to pursue them.
Hello, my name is Jalynn Patterson and I am your 2015 – 2016 Delaware State Secretary. I am a senior in high school. I am involved in National Honor Society, NSHSS, band, and I love hanging out with my friends on weekends. I first got involved with DECA in my sophomore year, my teacher insisted that I joined. After my first State Leadership Conference, I was excited for more competitions to come. I am looking forward to working as team and establishing relationships. As a team, I hope we are able to increase membership and help these future leaders.  Again, I look forward to working with my fellow officers and seeing everyone at upcoming events.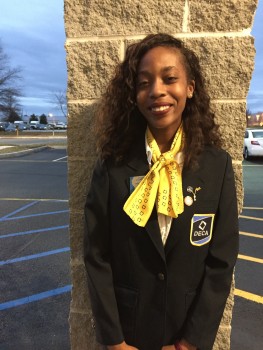 Hi, my name is Grace Enenmo and I am your 2015-2016 Delaware DECA state treasurer. I am currently a senior at William Penn highschool and was also the my chapter treasurer during the 2014-2015 school year. I am an outgoing individual. I am a swimmer, artist, and I love writing. I am also a member of groups within my school such as BPA, student council, and key club. I absolutely love DECA because it prepares you in the field of business and it also provides you with many opportunities. I love networking, and DECA definitely gives me the chances to do so. I cannot wait to network with you guys! Remember, let's make this year DECA Epic together!
Management Team
Lisa Wilson, State Advisor
lisa.wilson@doe.k12.de.us
Denise Christiansen, Executive Associate
dchristiansen@delawaredeca.org
Corinne Stayton, Administrative Assistant
anna.stayton@doe.k12.de.us
Delaware Department of Education
401 Federal Street
Suite 2
Dover, Delaware 19901

BE EPIC!
The 2015-2016 DECA year will be here before you know it, and the best way to make this next year EPIC is by taking advantage of all the opportunities in DECA's Comprehensive Learning Programs, as well as at leadership and regional conferences.
Whether you decide to do the DECA Idea Challenge 2015, complete all five of DECA's Chapter Campaigns, or attend the Ultimate DECA Power Trip or the Central Region Leadership Conference, DECA has created so many ways for you to #beDECAepic.