Marketing Education
DECA is a co-curricular component of marketing education that provides a program of student activities related to marketing and marketing education. Membership in DECA is open to all students who are enrolled in a state approved career and technical marketing education program. DECA provides opportunities for students to develop skills in the areas of career and technical understanding, leadership, civic consciousness, and social awareness.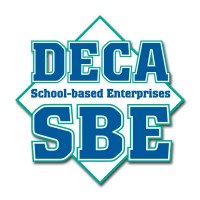 DECA SBE
The School-based Enterprise Certification Program was developed to provide recognition for outstanding achievement by school-based enterprises and to motivate SBEs to strive for excellence and to grow. The program provides SBEs with standards for model school store operation and provides recognition for school-based enterprises at three levels: bronze, silver and gold. The number and type of activities a school-based enterprise completes in each of the twelve sections will determine the level of certification awarded. Certification and re-certification guidelines can be found at: http://www.deca.org/sbe/.

#ReadyForIt
DECA Inc. is pleased to announce that "Ready For It" will be the 2018-2019 theme.
Now is your time to prepare for college and career, and DECA's Comprehensive Learning Program offers so many opportunities to help you determine your own destiny!
From innovative conferences that allow you to network with college representatives and potential employers, to challenging competitions that open new doors for creativity and successful thinking, DECA allows every member to discover their potential and explore unique pathways.
Even members who are unsure of what they want their futures to look like can benefit from the diverse experiences DECA provides. Traveling to new places, networking with new friends and conquering new challenges are all building blocks into creating a future you could only dream about.
DECA is ready to help you conquer your education and career goals – are you?
Are you #ReadyForIt?
Share your future goals with @DECAInc on Twitter with #ReadyForIt all year long!
SAVE THE DATE:
Thursday, February 7, 2019
2019 Delaware State Career Development Conference (SCDC)
Modern Maturity Center
Address: 1121 Forrest Ave, Dover, DE 19904
Phone: (302) 734-1200
Schedule of Events:
8AM- 9AM: Registration
9AM- 9:20AM: Opening Ceremony
9:30AM: Competitions
9:30AM – 10:15AM: Workshops
10:30AM-11:15AM: Workshops
11:30AM – 1:00PM: Lunch
1:15PM -2:00PM: Workshops
2:15PM-3:00PM: Workshops
3:00PM: Events Completed
3:30PM-4:15PM: Elections
4:15PM -5:00PM: Chapter Meetings
5:00PM- 8:00PM- Awards