Welcome back to an exciting school year. This year's theme, Make It Count, is all about accomplishing goals, setting new ones and conquering the impossible. It's about shaking up the routine and making changes. Leading by example, we're doing just that at DECA, which will result in innovative resources and better members/advisor services!
Marketing Education
DECA is a co-curricular component of marketing education that provides a program of student activities related to marketing and marketing education. Membership in DECA is open to all students who are enrolled in a state approved career and technical marketing education program. DECA provides opportunities for students to develop skills in the areas of career and technical understanding, leadership, civic consciousness, and social awareness.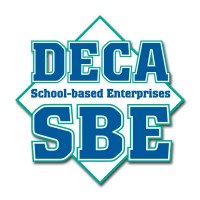 The School-based Enterprise Certification Program was developed to provide recognition for outstanding achievement by school-based enterprises and to motivate SBEs to strive for excellence and to grow. The program provides SBEs with standards for model school store operation and provides recognition for school-based enterprises at three levels: bronze, silver and gold. The number and type of activities a school-based enterprise completes in each of the twelve sections will determine the level of certification awarded. Certification and re-certification guidelines can be found at: http://www.deca.org/sbe/.
Meet the 2013-14 Delaware DECA State Officer Team!
Photo and biographies coming soon!

DECA: Make It Count
This is your year. This is the time to work harder, do better and be stronger. This is the time to erase your doubts and fears and go the distance. Accomplish your goals, set new ones, and conquer the impossible. Don't wait till tomorrow or next week—do it today. Do it now. This is the year to MAKE IT COUNT.
You are not alone. You have a school, a community and a chapter waiting for you to make the first move. If you don't, who will? Shake up the routine, change up the plans and wake up your fellow advisors and members. Last year's plans are done; it's time for new ones. Your membership goals, your fundraising plans, your competitive events—change them all. Don't dream about being the best. MAKE IT COUNT and you will be the best.
THIS IS NOT JUST ANOTHER YEAR. THIS IS YOUR YEAR. THIS IS OUR YEAR. WE WILL MAKE IT COUNT
2014 State Conference
More information will be coming soon!